An antimicrobial privacy curtain made with a blend of quaternary ammonium chlorides, or QAC, plus polyorganosiloxane reduces contamination with multidrug-resistant organisms, or MDROs, and the microbial burden compared with a standard curtain, according to researchers.
Dry surfaces in hospitals can harbor MDROs for months and patient privacy curtains are frequently contaminated,a consultant microbiologist at Princess Margaret Hospital in Hong Kong, and colleagues noted.
A recent study published in the American Journal of Infection Control found that after 21 days, most patient privacy curtains tested positive for MRSA.
"In addition to removing curtains as a source of MDRO transmission, antimicrobial privacy curtains may also avert costs related to changing and laundering of standard curtains," Luk and colleagues wrote.
They conducted an open-labeled, prospective study in medical, surgical, neurosurgical, orthopedic and rehabilitation units at 10 hospitals in Hong Kong from November 2016 to November 2017, with a 6-month follow-up period. They assessed the rooms of patients with MDROs where antimicrobial curtains were changed upon discharge and cubicles where antimicrobial curtains hung for 3 to 6 months and compared two different types of antimicrobial curtains with the standard curtain. The first curtain, identified as antimicrobial curtain A, was made with nonwoven fabric and built-in silver additives. The second curtain, curtain B, was made with a blend of QAC and polyorganosiloxane.
According to the study, 12 rooms of patients with MDROs and 10 cubicles were included in the assessment, comprising 668 and 8,839 patients bed days, respectively. Twice a week for 2 weeks, culture samples were obtained from curtain surfaces. Samples were then collected at weekly intervals for the rest of the study period.
Luk and colleagues found that curtain B, which had a median hanging time of 173 days, was "highly effective" at reducing the bioburden compared with the standard curtain (1 vs. 57 colony-forming units/100 cm2; P < .001). Curtain B also demonstrated significantly lower MDRO contamination compared with both curtain A and the standard curtain. Specifically, 0.5% of curtain B samples were contaminated with MRSA, 0.2% with carbapenem-resistant Acinetobacter species and 0% with multidrug-resistant Acinetobacter species. The standard curtain had contamination rates of 24%, 22.1% and 13.2%, respectively.
Furthermore, when the researchers evaluated median time to first contamination by an MDRO, they found it was 27.6 times longer for curtain B compared with the standard curtain. It took a median of 138 days for contamination of curtain B, whereas it took a median of 5 days (P = .001) for the standard curtain, they reported.
The researchers suggested that using curtain B may improve patient safety and avert indirect curtain changing and laundering costs.
"Antimicrobial curtain B … but not antimicrobial curtain A … did effectively reduce the microbial burden and MDRO contamination compared with the standard curtain, even after extended use in an active clinical setting," Luk and colleagues wrote. "Further studies to assess whether antimicrobial curtain can decrease the transmission of MDROs or lead to the emergence of antimicrobial resistance are needed." -by Marley Ghizzone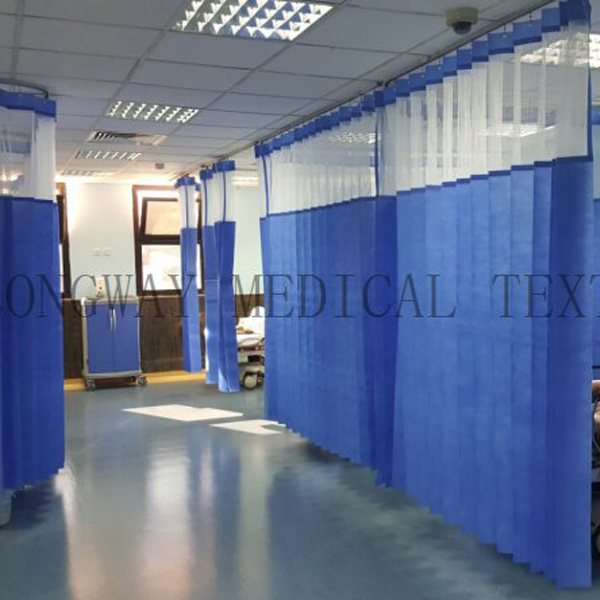 ---
Post time: Aug-13-2019